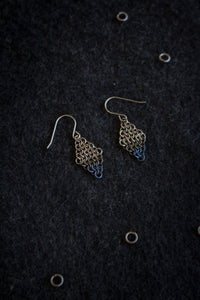 Apo A Nani - Handmade Titanium Earrings #2 - "Dipped in Tiers"
Apo A Nani
Regular price $59.99 $34.93 Sale
All Apo A Nani pieces are handmade in the Hawaiian islands and are a testament to the painstaking patience and attention to detail required for their creation. 
There is no machine on earth currently capable of creating jewelry in this style. As such, each piece is created by manually linking together individual rings - one by one, by hand. 
Made from 100% Grade 5 Titanium, these earrings are extremely durable, lightweight, highly corrosion-resistant, and hypoallergenic. As such, these are perfect for any occasion - formal to casual and everywhere in between.
72 Hand-linked rings in 20 Gauge Grade 5 Titanium
100% Grade 5 Titanium Hooks
European-Type 4-in-1 Pattern Variant
Handmade with Aloha in Maui, Hawaii
Shipped direct from Maui, Hawaii